Cliff and his team at Palmetto Heating and Cooling are a true display of professionalism, creativity and efficiency. Replacing ductwork in a 1950s home proved to be a difficult task. However, Cliff worked his magic and created a customized system that fit only our home, requiring a lot of measuring and creativity. His team of guys are trustworthy and hard working- they even made sure my house dog was safe at all times and never got out. Cliff created a custom plan for our home that would not only save us money but also fix several issues we had been facing with airflow. His team left our home cleaner than it was before and I couldn't be happier with our new ductwork and HVAC system. I would highly recommend Palmetto Heating and Cooling to any of my friends and family.
Caroline Jones Toniolo, Florence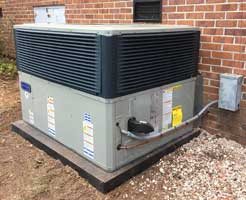 I was in the market to replace my HVAC system. I got three bids. Palmetto was priced right in the middle, but I'm so glad I went with them. Cliff was great. He listened to what I wanted, and they installed the perfect system. They got the work done in one day, followed up the next day to make sure all was well. Everyone I had contact with was helpful and professional. With the reduction in energy costs that I've already experienced, I'm guessing my system will pay for itself in about four years or so. I really couldn't have been happier with my purchase. It's great to completely avoid buyer's regret with such a major purchase.
Mitch Walker, Quinby
Thanks! The new unit is working like a champ and has made a tremendous difference. Thanks to you (and your wife) for all the hard work.
Dr. Bryan Patterson, Florence
We use Palmetto Heating and Cooling with a lot of our rentals and recommend them to others who need a fast, proficient company for the HVAC.
Shelby Caulder, Aiken and Company
Great job today, guys! Thanks for coming out when no one else would... My wife, 4 boys, and dogs appreciate it to! Y'all were very professional and friendly and I will definitely recommend you to anyone who needs heating and air help!
Tom Budde, from Facebook.
Five Stars!
Jordan Elaine Polk, from Facebook.
Rated Five Stars!
Leigh Bostick Collins, from Facebook.
Palmetto Heating and Air is the best, same day response, great communication, with a friendly attitude.
Janice Sharp, Aiken and Company